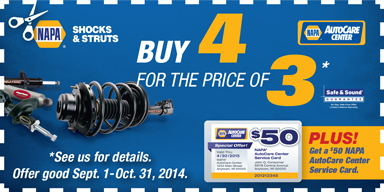 Visit Northside Auto Repair – Albuquerque, NM
It's back-to-school time, so your vehicle's brakes are important, right? But did you know that steering and braking control can also be improved with new NAPA Shocks and Struts? And right now at Northside Auto Repair — your participating NAPA AutoCare Center — you can buy four qualifying NAPA Shocks and Struts for the price of three! Plus, with your purchase, receive a $50 NAPA AutoCare Center Service Card to use on a future service or repair of $75 or more! Shock and s trut savings via a Visa® prepaid card by mail, equal to the lowest cost unit. See us for details. Schedule your appointment today at Northside Auto Repair at 7601-A San Pedro NE Albuquerque, NM!
Offer good September 1 through October 31, 2014, with installation.